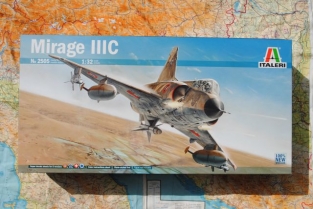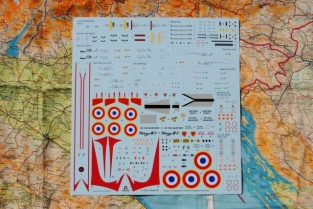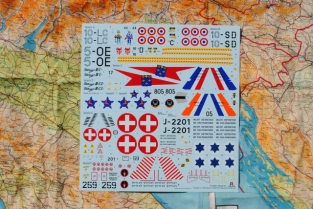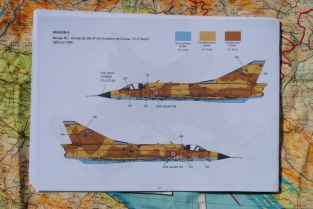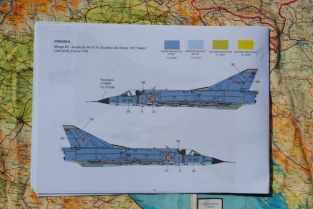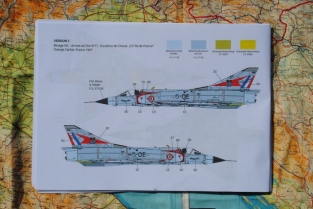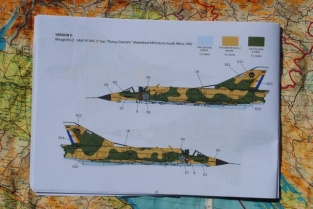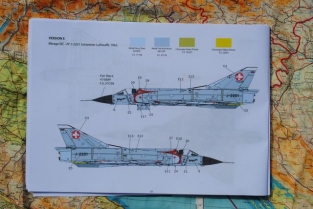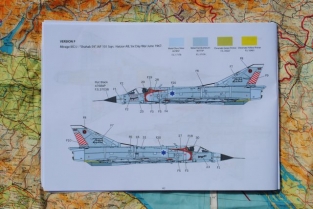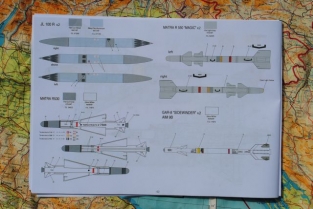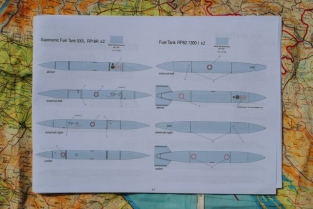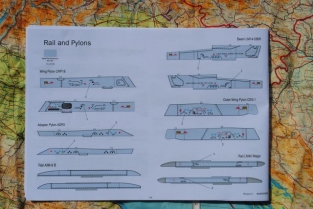 Italeri 2505 Dassault  Mirage IIIC
Dassault Mirage IIIC
De Dassault Mirage III is een supersonisch jachtvliegtuig dat in de jaren 50 van de 20e eeuw werd ontworpen door Avions Marcel Dassault.
Het toestel had een betrouwbare reputatie en deed niet alleen jarenlang dienst bij de Armée de l'Air (ALA), maar is in de loop van de tijd ook op de buitenlandse markt in grote aantallen verkocht aan diverse luchtmachten over de gehele wereld zoals. Abu Dhabi, Argentinië, Australië, België, Brazilië, Chili, Colombia, Egypte, Gabon, Israël, Libanon, Libië, Pakistan, Peru, Spanje, Venezuela, Zaïre, Zuid-Afrika en Zwitserland.
De Mirage IIIC werd in een eerste productielijn van 95 stuks gebouwd en was de eerste operationele versie die vanaf 1961 bij de ALA als luchtverdedigingsjager in gebruik werd genomen. Het toestel was standaard voorzien van twee DEFA 30mm-kanonnen en vijf hardpoints waardoor diverse bommen en raketbewapening meegevoerd kon worden.
De Mirage 5 was een speciaal project voor de Israëlische luchtmacht; het was eigenlijk een Mirage IIIE die was gewijzigd naar Israëlische luchtmachtspecificaties en met een iets langere neus. Dit toestel mocht destijds vanwege de toen heersende internationale situatie echter niet worden afgeleverd. Daarop werden alle bouwtekeningen door de Israëlische Mossad gestolen en werd het toestel met succes onder de naam Nesher in Israël door de lokale luchtvaartindustrie geproduceerd. Vervolgens werden nog 2 Israëlische typen uitgebracht:
de IAI KFIR; de verbeterde Nesher met een sterke General Electric J79 motor met naverbrander en de IAI KFIR C2 met verbeterde elektronica.
Zes uitvoeringen mogelijk;
Dassault Mirage IIIC - Armée de I'Air No.44, Escadron de Chasse 3/10 "Vexin", Djibouti, 1980.
Dassault Mirage IIIC - Armée de I'Air No.16, Escadron de Chasse 10/1 "Valois", Creil-Senils, France, 1978.
Dassault Mirage IIIC - Armée de I'Air No.17, Escadron de Chasse 2/5 "IIe de France", Orange Caritat, France, 1967.
Dassault Mirage IIIC/Z - SAAF, No.805, 2nd Squadron, "Flying Cheetahs", Waterkloof Air Base pretoria, South Africa, 1982.
Dassault Mirage IIIC - No.J-2201, Schweizer Luftwaffe, 1962.
Dassault Mirage IIIC/J - "Shahak 59", IAF No.101 Squadron, Hatzor Air Base, Six Day War, June 1967.
Afmeting;
Bewapening;
JL 100R
MATRA R 550 "MAGIC"
MATRA R530
GAR-8 "SIDEWINDER" AIM 9B
Humbrol verf kleur nr.'s; 11 / 29 / 33 / 44 / 47 / 53 / 60 / 93 / 27002 / 27003.
Photo etched fred included
Reviews ()
Italeri 2505 Dassault  Mirage IIIC does not have any reviews yet. Share your experiences and post a review.
Italeri 2505 Dassault  Mirage IIIC
Matching Products For:
Alternative Products For: