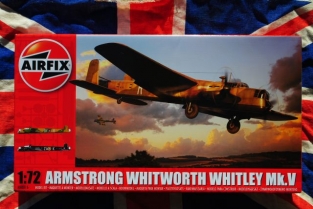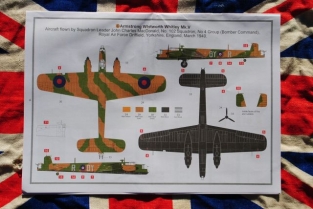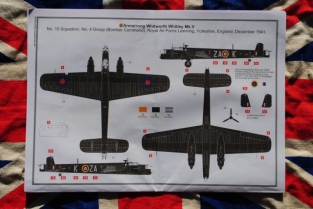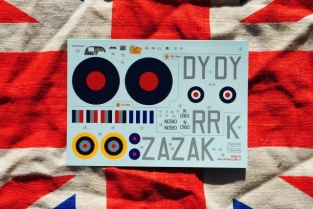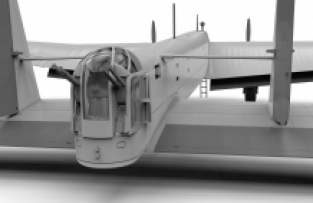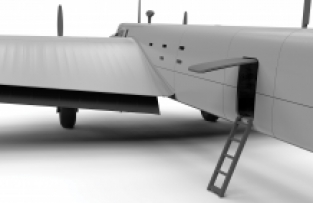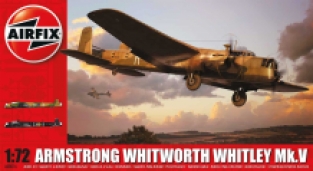 Airfix A08016 ARMSTRONG WHITWORTH WHITLEY Mk.V
ARMSTRONG WHITWORTH WHITLEY Mk.V
De Armstrong Whitworth Whitley was een tweemotorige bommenwerper, ontworpen en geproduceerd door de Britse vliegtuigfabrikant Sir W.G. Armstrong Whitworth Aircraft Ltd. uit Whitley, Coventry. Het toestel was tijdens de Tweede Wereldoorlog in gebruik bij de RAF.
In de beginfase van de Tweede Wereldoorlog wierpen de met Whitleys uitgeruste RAF-squadrons vlugschriften boven Duitse steden uit. Daarbij werden zware verliezen geleden. Op 19 maart 1940 wierpen Whitleys de eerste bommen op Duits grondgebied van de hele oorlog af, tijdens een aanval op een basis voor watervliegtuigen op het eiland Sylt. Samen met de Wellington en de Hampden - lichte toestellen vergeleken met de latere zware Britse bommenwerpers - voerde de Whitley aan het begin van de oorlog de meeste Britse bombardementsmissies uit.
Vanwege de zware verliezen die in de winter van 1940 op 1941 werden geleden en de komst van viermotorige toestellen, werd de Whitley later alleen nog door Coastal Command ingezet voor maritieme patrouillevluchten boven de Franse Atlantische kust. Een Whitley VII van het No.502 Squadron boekte het eerste succes met de tegen schepen gerichte ASV radar door in november 1941 de Duitse onderzeeër U-206 uit te schakelen.
De vroege versies voerden vanaf 1942 geen bombardementsmissies meer uit, maar werden gebruikt als trainingsvliegtuig en sleepvliegtuig voor zweefvliegtuigen - zo maakten talloze parachutisten vóór D-Day hun oefensprongen uit Whitleys. In 1942 en 1943 werden vijftien Whitleys aan de BOAC overgedragen. Met civiele registraties verzorgden ze vanuit Gibraltar de bevoorrading van Malta.
Twee uitvoeringen mogelijk;
Armstrong Whitworth WHITLEY Mk.V - Aircraft flown by Squadron Leader John Charles MacDonald, No.102 Squadron, No.4 Group "Bomber Command", Royal Air Force Driffield, Yorkshire, England, March 1940.
Armstrong Whitworth WHITLEY Mk.V - No.10 Squadron, No.4 Group 'Bomber Command", Royal Air Force Leeming, Yorkshire, England, December 1941.
Afmetingen;
Lang; 313 mm.
Breed; 356 mm.
Aantal onderdelen; 152
Humbrol verf kluer nr.'s; 24 / 29 / 30 / 33 / 53 / 56 / 62 / 74 / 78 / 85.
Reviews ()
Airfix A08016 ARMSTRONG WHITWORTH WHITLEY Mk.V does not have any reviews yet. Share your experiences and post a review.
Airfix A08016 ARMSTRONG WHITWORTH WHITLEY Mk.V
Matching Products For:
Alternative Products For: