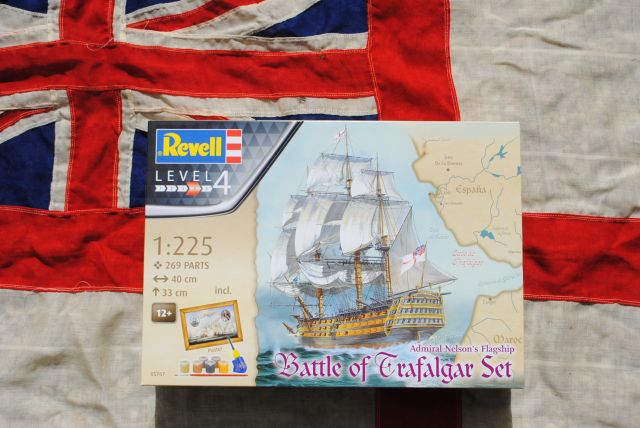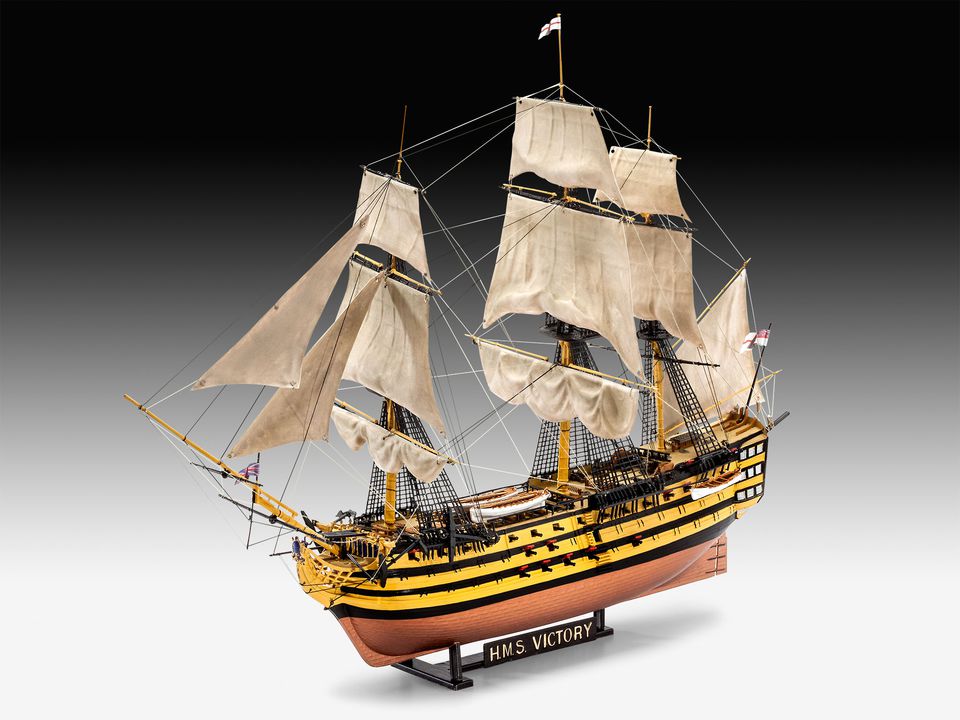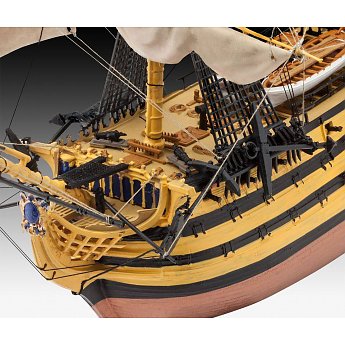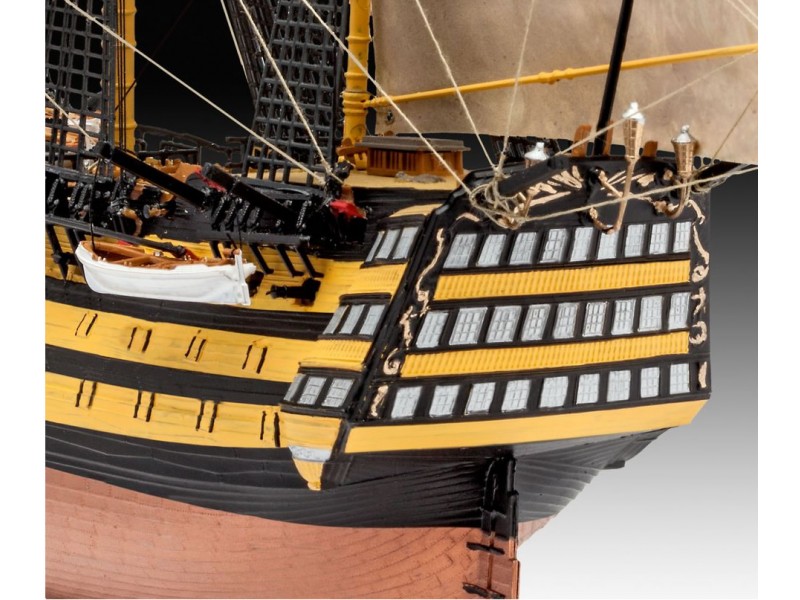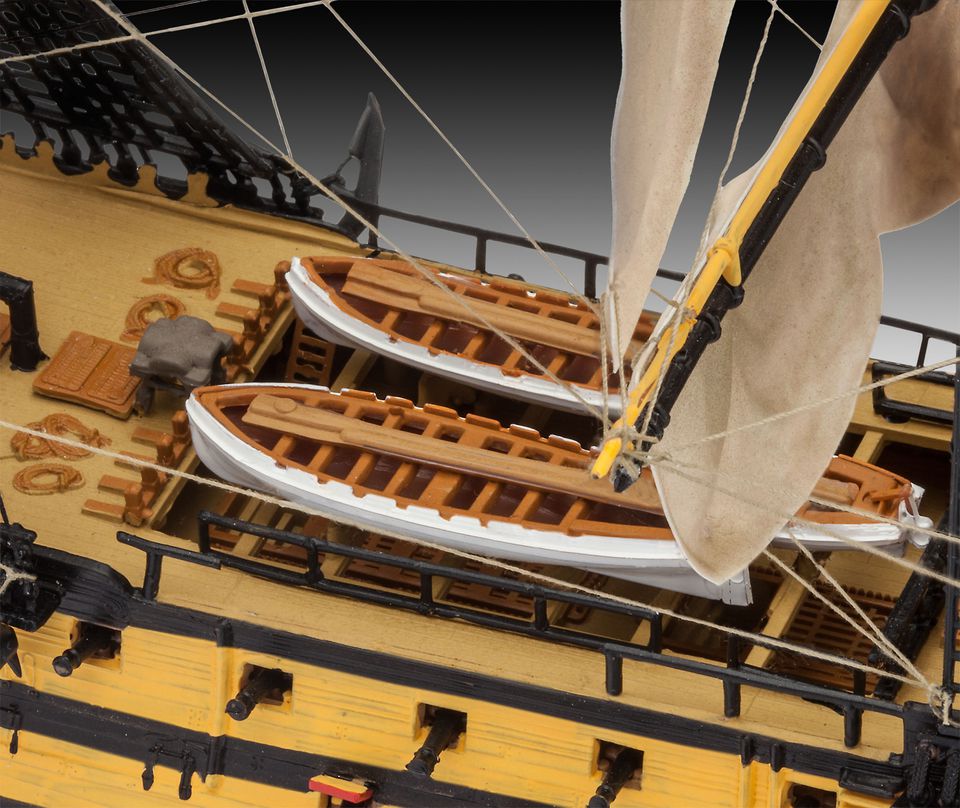 Revell 05767 HMS VICTORY "Battle of Trafalgar" 1:225
Réf. article:
Revell 05767
HMS VICTORY "Battle of Trafalgar"
"Her Majesty's Ship"
Admiral Nelson's Flagship
De Slag bij Trafalgar (21 oktober 1805) was een zeeslag uitgevochten door de Royal Navy tegen de gecombineerde vloten van de Franse en Spaanse marines, tijdens de derde coalitieoorlog (augustus-december 1805) van de Napoleontische Oorlogen (1803-1815).
Zevenentwintig Britse schepen van de lijn onder leiding van admiraal Lord Nelson aan boord van de HMS Victory versloeg drieëndertig Franse en Spaanse schepen van de lijn onder de Franse admiraal Villeneuve in de Atlantische Oceaan van de zuidwestkust van Spanje, net ten westen van Kaap Trafalgar, in Caños de Meca. De Frans-Spaanse vloot verloor tweeëntwintig schepen, zonder een enkele Britse schip verloren.Het was de meest beslissende zeeslag van de oorlog definitief beëindigen van de Franse plannen om Engeland binnen te vallen.
De Britse overwinning spectaculair bevestigde de marine suprematie dat Groot-Brittannië in de achttiende eeuw was opgericht en werd bereikt mede door Nelson's vertrek uit de heersende marine tactische orthodoxie. Dit betrof de uitoefening van een vijandelijke vloot in een enkele lijn van de strijd parallel aan de vijand te vergemakkelijken signalering in de strijd en de terugtrekking, en velden van brand en doelgebieden te maximaliseren. Nelson plaats verdeelde zijn kleinere kracht in twee kolommen loodrecht gericht tegen de vijandelijke vloot, met doorslaggevende resultaten.
Nelson werd neergeschoten door een Franse musketier tijdens de slag en stierf kort na, steeds een van de grootste van Groot-Brittannië de oorlog helden. Villeneuve werd gevangen, samen met zijn schip Bucentaure. Admiral Federico Gravina, de senior Spaanse vlag officer, ontsnapte met de rest van de vloot en bezweken maanden later aan verwondingen opgelopen tijdens het gevecht. Villeneuve woonde de begrafenis van Nelson terwijl een gevangene op erewoord in Groot-Brittannië.
Eén uitvoering mogelijk;
HMS VICTORY - 21 oktober 1805 "Slag bij Trafalgar"
Afmetingen;
Lang; 400 mm.
Hoog; 330 mm.
Aantal onderdelen; 269
Schaal 1:225
SET BEVAT;
HMS VICTORY
6 verschillende kleuren Revell verf
Revell lijm
penceel
poster van de "Slag bij Trafalgar"
Notes ()
Revell 05767 HMS VICTORY "Battle of Trafalgar" 1:225 n'a encore aucun commentaire. Partagez votre expérience en cliquant sur Noter.
Revell 05767 HMS VICTORY "Battle of Trafalgar" 1:225
Produits correspondants pour:
Produits alternatifs pour: