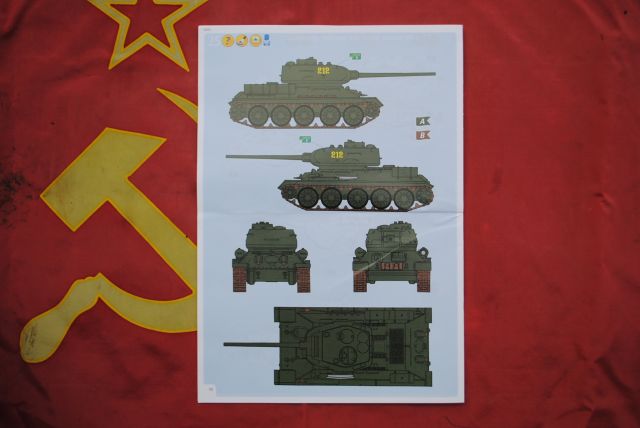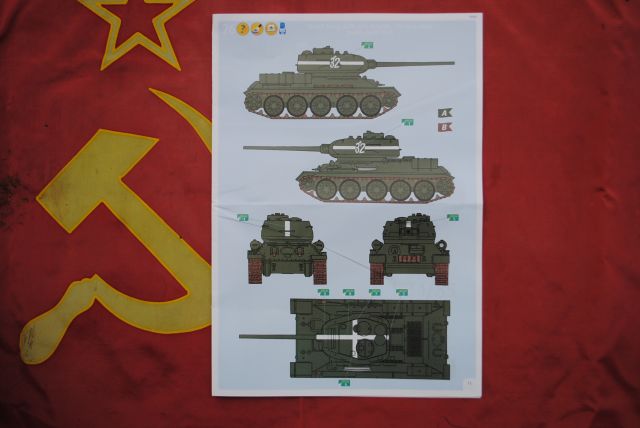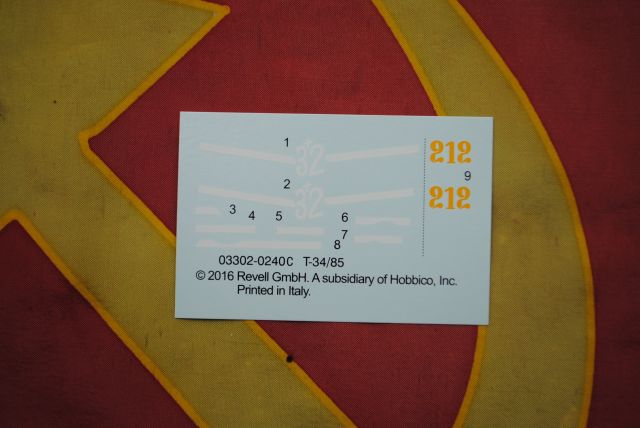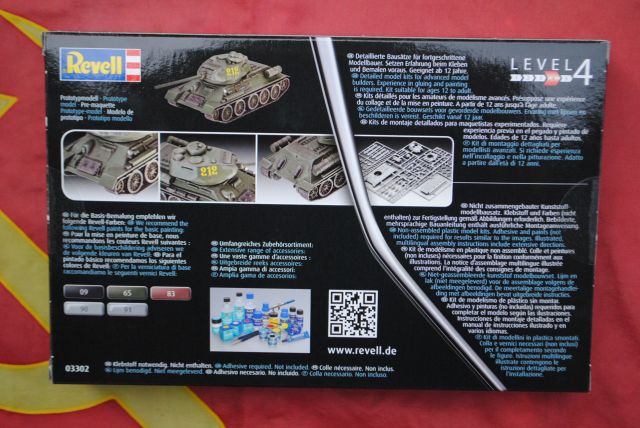 Revell 03302 T-34/85
T-34/85
De T-34 was een middelzware tank die door het Rode Leger werd ingezet tijdens de Tweede Wereldoorlog. Tijdens die oorlog was het met ruim 35.000 exemplaren de meest geproduceerde tank ter wereld. Het voertuig wordt algemeen gezien als een mijlpaal in de tankontwikkeling door zijn sterkte en eenvoud (dieselmotor) en speelde een beslissende rol in de Sovjet-overwinning op de Duitsers. De tank nam succesvol deel aan de grootste tankslag uit de geschiedenis, de Slag bij Koersk in juli-augustus 1943.
Men converteerde eerst al gebouwde T-34's naar modellen binnen de OT serie bewapend met een vlammenwerper; later werden die meteen al zo gebouwd. De vlammenwerpers zijn verdisconteerd in de bovenstaande cijfers. Ook genietanks werden vervaardigd. Er zijn in 1941 ook een veertigtal voertuigen omgebouwd tot de T-34-57 met een lang 57 mm kanon (ZiS-4) dat een beter doorslagvermogen had dan de 76.2 mm. Later, toen de Panther en Tiger tanks op het strijd toneel kwamen, werd de ZiS-4M gebruikt, deze is echter nooit tot productie gekomen door de betere T-34-85. Uit de T-34 werd de SU-122 (636 stuks) ontwikkeld, een gemechaniseerd geschut, samen met de SU-85 (2659) en SU-100 (2355 stuks tot eind 1945), beide tankjagers. De T-34-85 werd in 1944 weer doorontwikkeld tot de T-34-100, een experimentele voorloper met 100 mm kanon van de T-44.
Twee uitvoeringen mogelijk;
T-34/85 - Soviet Red Army, Unknown Unit, Russia, Autumn 1944.
T-34/85 - Soviet Red Army, 55th Tank brigade, 7th Tank Corps, Berlin, April 1945.
Afmetingen;
Aantal onderdelen; 135
Revell verf kleur nr.'s; 9 / 65 / 83 / 90 / 91.
Reviews ()
Revell 03302 T-34/85 does not have any reviews yet. Share your experiences and post a review.
Matching Products For:
Alternative Products For: