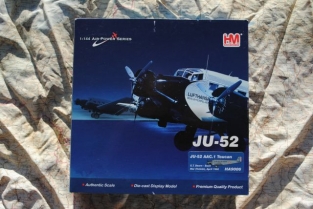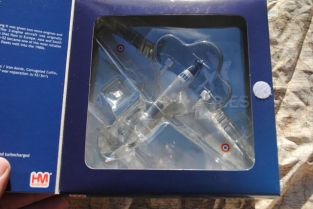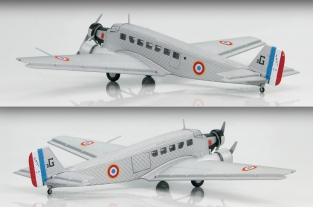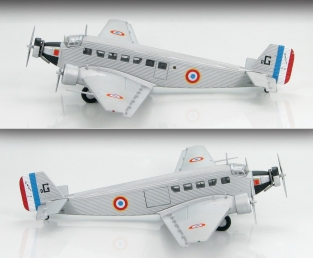 Hobby Master HA9006 Ju-52 AAC.1 Toucan
Artikelnr:
Hobby Master HA9006
Ju-52 AAC.1 Toucan "G.T. Bearn - Bach Mai (Tonkin), 1950"
De Toucan Amiot AAC.1 zijn Franse militaire transportvliegtuigen gebouwd na de Tweede Wereldoorlog en kopie van de Duitse Junkers Ju52 / 3m . Er worden meer dan 400 vliegtuigen geproduceerd.
Ten minste 216 toekans vlogen in verschillende eenheden van de luchtmacht. 
De Toekan diende eerst in de transporteenheden op het vasteland van Frankrijk. Transportgroep III / 15 Maine is voor de helft uitgerust met Toucan en Douglas C-47. Gestationeerd in Le Bourget nam deze eenheid deel, met de C-47's van GT II / 15 Anjou en GT I / 15 Touraine, aan de repatriëring van Franse gevangenen en gedeporteerden in Duitsland. 
GT IV / 15 Poitou passeert Toucan in 1946. 
In 1947 werden eenentwintig mensen ingezet tijdens de opstand van 1947, soms als provisorische bommenwerpers met een lading van een ton munitie.
Een aanzienlijk aantal Toucan diende tijdens de eerste jaren van de Indochinese Oorlog , waaronder GM III / 64 Tonkin, GT I / 64 Béarn en GT II / 52 Franche-Comté. 
GSRA 76 en 78 ( Saharan Reconnaissance and Support Groups ) vluchtten ook naar Toucan tijdens de Algerijnse oorlog . 
Toucan werd ook gevonden in Frans Equatoriaal Afrika waar ze binnen de ESRA 77 Bangui vlogen.
Eén uitvoering mogelijk;
Ju-52 AAC.1 Toucan - G.T. Bearn - Bach Mai (Tonkin) French Indo-China, April 1950.
De Hobby Master "1: 144 Air Power Series" -reeks presenteert gedetailleerde, kant-en-klare gegoten modellen van militaire vliegtuigen.
Hobby Master "1:144 Air Power Series" diecast vliegtuigen functie:
Diecast metalen constructie met enkele plastic componenten.
Realistische paneellijnen, antennes, toegangspanelen en oppervlaktedetails.
Tampondrukmarkeringen en plakkaten die niet zullen vervagen of schilferen als emblemen.
Verwisselbaar verlengd / ingetrokken landingsgestel.
Presentatiestand om het vliegtuig "tijdens de vlucht" weer te geven.
Nauwkeurig gedetailleerde onderkant met verborgen schroefkoppen.
Schaal 1:144
Hobby Master HA9006 
Beoordelingen ()
Hobby Master HA9006 Ju-52 AAC.1 Toucan heeft nog geen reviews. Deel uw product ervaring en plaats een review.
Hobby Master HA9006 Ju-52 AAC.1 Toucan
Aanbevolen artikelen:
Alternatieve artikelen: