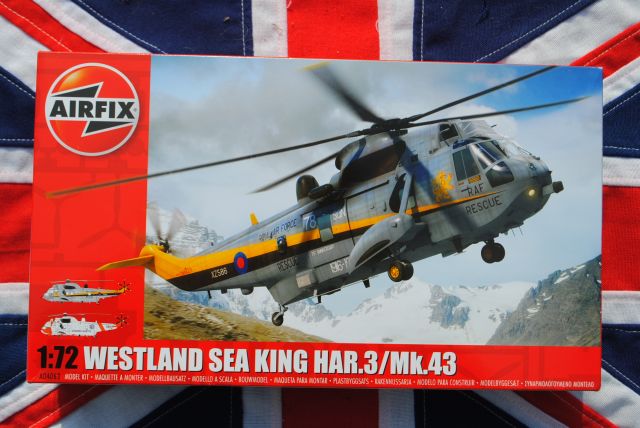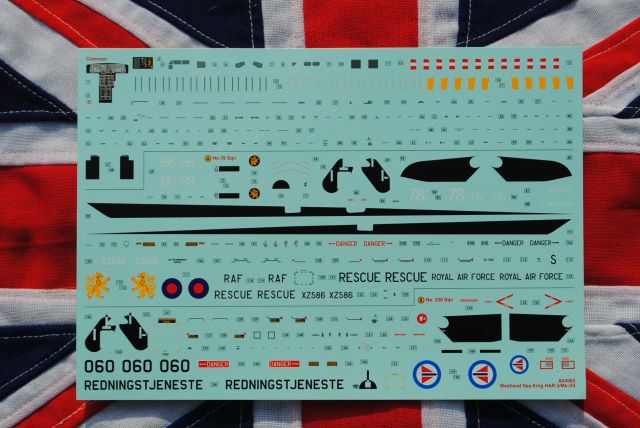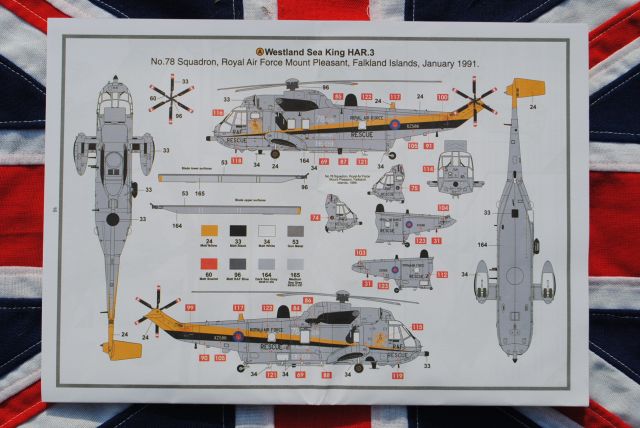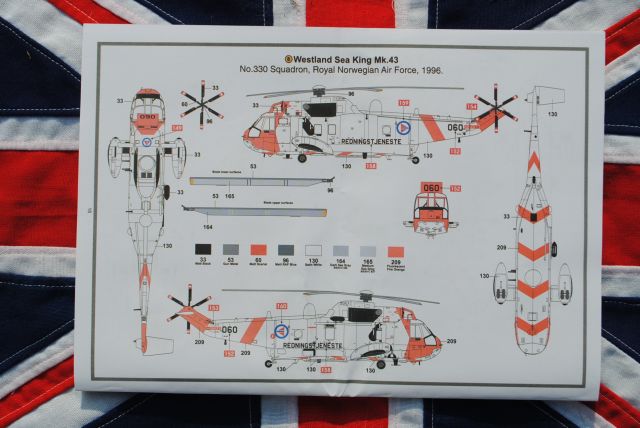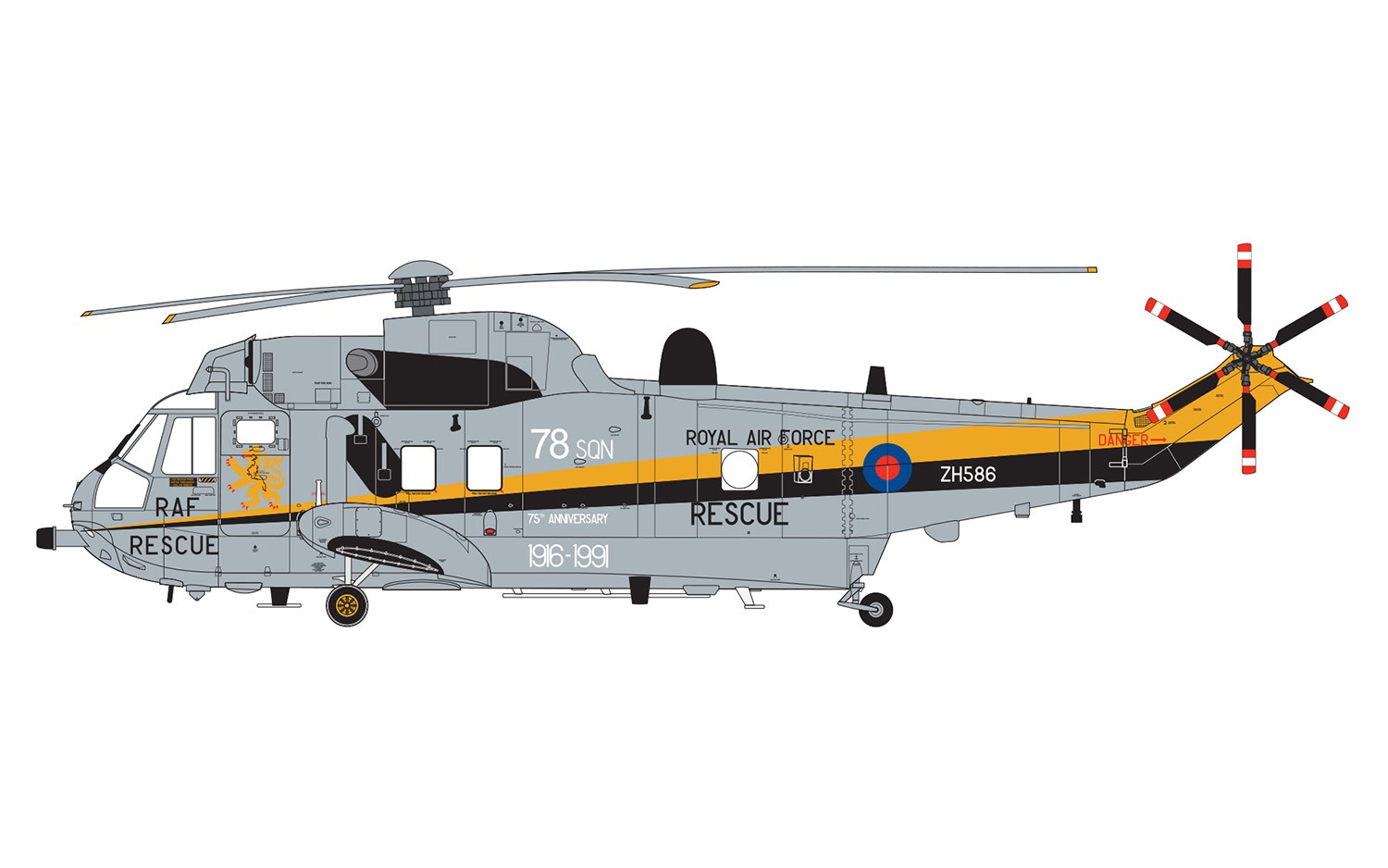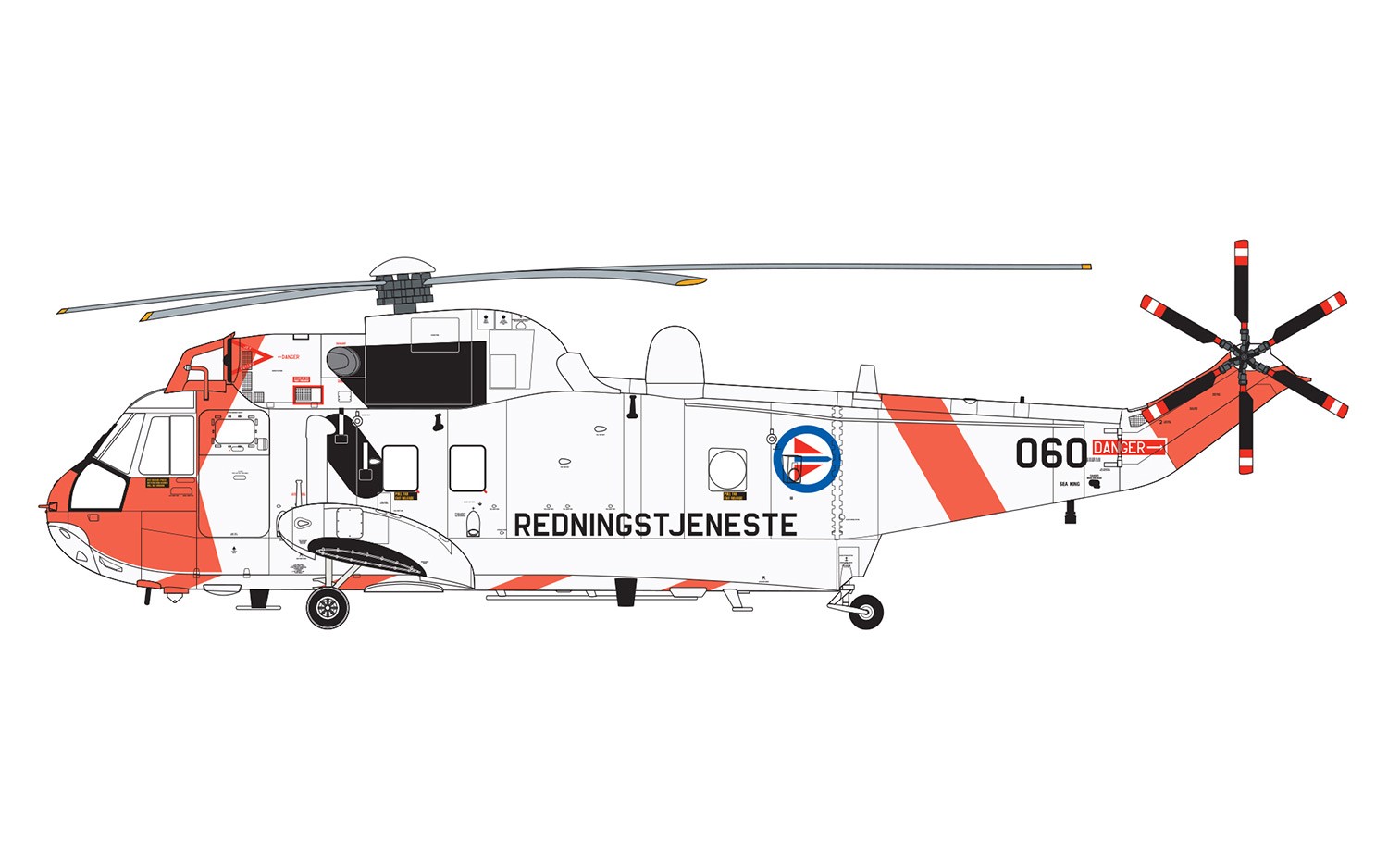 Airfix A04063 WESTLAND SEA KING HAR.3/Mk.43
WESTLAND SEA KING HAR.3/Mk.43
De Westland WS-61 Sea King is een Britse licentie-gebouwde versie van de Amerikaanse Sikorsky S-61 helikopter met dezelfde naam, gebouwd door Westland Helicopters. Het vliegtuig verschilt aanzienlijk van de Amerikaanse versie, met Rolls-Royce Gnome- motoren (afgeleid van de Amerikaanse General Electric T58 ), door de Britten gemaakte anti-submarine oorlogssystemen en een volledig geautomatiseerd besturingssysteem voor vluchtcontrole. De Sea King was in de eerste plaats ontworpen voor het uitvoeren van anti-submarine oorlogsvoering (ASW) missies. Een Sea King-variant werd door Westland aangepast als troepentransport, ook bekend als het Commando.
In Britse dienst leverde de Westland Sea King een breed scala aan diensten in zowel de Royal Navy als de Royal Air Force. Naast oorlogsrollen in de Falklandoorlog, de Golfoorlog, het conflict op de Balkan, de oorlog in Irak en de oorlog in Afghanistan, is de zeekoning misschien het meest bekend in zijn hoedanigheid van Royal Navy Search and Rescue (rode en grijze kleurstelling) en RAF Search and Rescue Force (gele livrei) helikopter. De Sea King werd ook aangepast om te voldoen aan de eis van de Royal Navy voor een op schepen gebaseerd luchtverkeerswaarschuwingsplatform.
Het Noorse ministerie van Justitie is eigenaar van 12 Mk43B Sea Kings die worden bestuurd door het 330 squadron van de Royal Norwegian Air Forces. Het vliegtuig wordt gebruikt voor SAR- en luchtambulance-missies en staat onder het commando van het Joint Rescue Coordination Centre in Zuid-Noorwegen en Noord-Noorwegen. Geïntroduceerd in mei 1973, waren ze oorspronkelijk gestationeerd op Bodø Main Air Station, Ørland Main Air Station , Sola Air Station en Station Group Banak. In 1997 voerde het squadron 237 SAR- en 747 luchtambulance-missies uit. Van 1995 tot 1998 was er een helikopter gestationeerd op Ålesund Airport, Vigra, en sinds 1999 is er een gestationeerd op Rygge Air Station. Florø Airport werd een station voor een helikopter uit 2009. 
De helikopters worden vervangen door AgustaWestland AW101 Merlin onder het Noorse programma All-Weather Search en Rescue Helicopter (NAWSARH). De kandidaten voor het NAWSARH-contract van 10-12 helikopters waren de AgustaWestland AW101 Merlin, NHIndustries NH-90, Eurocopter EC225 en Sikorsky S-92 . [95]Juli 2013, AgustaWestland (AW101 Merlin) en Eurocopter (EC225) stonden op de shortlist om verdere besprekingen te voeren voor het NAWSARH-programma voor maximaal 16 helikopters.
Twee utvoeringen mogelijk;
Westland Sea King HAR.3 - No.78 Squadron, Royal Air Force Mount Pleasant, Falkland Islands, january 1991.

Westland Sea King Mk.43 - No.330 Squadron, Royal Norwegian Air Force, 1996.  
Afmetingen;
Lang; 307 mm.
Breed; 262 mm.
Aantal onderdelen; 135
Humbrol verf kleur nr.'s; 24 / 33 / 34 / 60 / 64 / 69 / 85 / 96 / 130 / 164 / 165 / 209.
Schaal 1:72
Airfix A04063 
Beoordelingen ()
Airfix A04063 WESTLAND SEA KING HAR.3/Mk.43 heeft nog geen reviews. Deel uw product ervaring en plaats een review.
Airfix A04063 WESTLAND SEA KING HAR.3/Mk.43
Aanbevolen artikelen:
Alternatieve artikelen: