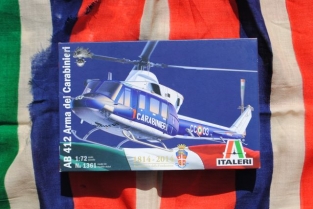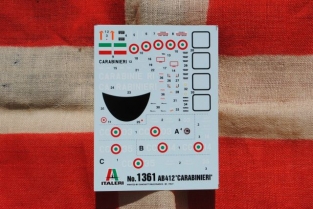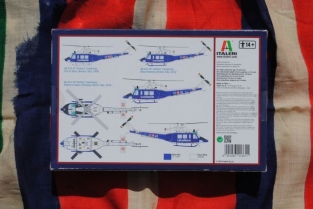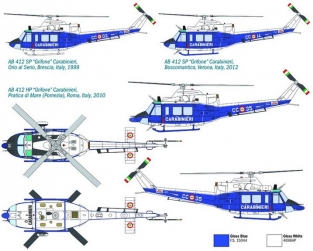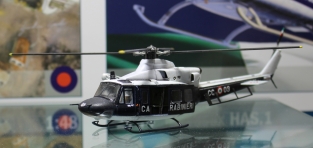 Italeri 1361 AB 412 Arma dei Carabinieri
AB 412 Arma dei Carabinieri
1814-2014 Bicentenario della Fondazione
Agusta Bell 412 is een type helikopter van de Italiaanse fabrikant Agusta. Hij is afgeleid van de Bell 412 van de Amerikaanse fabrikant Bell, waarmee Agusta samenwerkt.
De AB 412 werd al snel een commercieel succes en wordt vandaag de dag gebruikt voor zowel civiele als militaire doeleinden.

Militaire versies worden gebruikt voor het transport van troepen, tot 14 soldaten aan boord, of voor medische evacuatie (Medevac), door de mogelijkheid om tot zes stretchers te vervoeren.

Het toestel, dankzij zijn uitzonderlijke flexibiliteit, kan worden gebruikt bij operaties voor milieubescherming, brandbestrijding en search & rescue taken.

De AB 412 wordt ook gebruikt door de Italiaanse Carabinieri, Guardia di Finanza en Vigili del Fuoco.
De Agusta Bell 412-SP (Special Performance) werd als SAR-helikopter, dat wil zeggen voor reddingsoperaties, gebruikt door het 303 Search And Rescue squadron van de Koninklijke Luchtmacht, waar hij sinds 1994 de Alouette verving. Het squadron beschikte over 3 gele helikopters, die gestationeerd waren op de Vliegbasis Leeuwarden en op Vlieland Heliport. Op 1 januari 2015 werden de helikopters teruggetrokken en het 303sqn werd opgeheven. De helikopters zijn daarna verkocht aan Peru.
Drie uitvoeringen mogelijk;
AB 412 SP "Grifone" - Carabinieri, Orio al Serio, Brescia, Italy, 1999.

AB 412 SP "Grifone" - Carabinieri, Boscomantico, Verona, Italy, 2012.

AB 412 SP "Grifone" - Carabinieri, Pratica di Mare (Pomezia), Roma, Italy, 2010.
Afmeting;
Schaal 1:72
Italeri 1361
Beoordelingen ()
Italeri 1361 AB 412 Arma dei Carabinieri heeft nog geen reviews. Deel uw product ervaring en plaats een review.
Italeri 1361 AB 412 Arma dei Carabinieri
Aanbevolen artikelen:
Alternatieve artikelen: