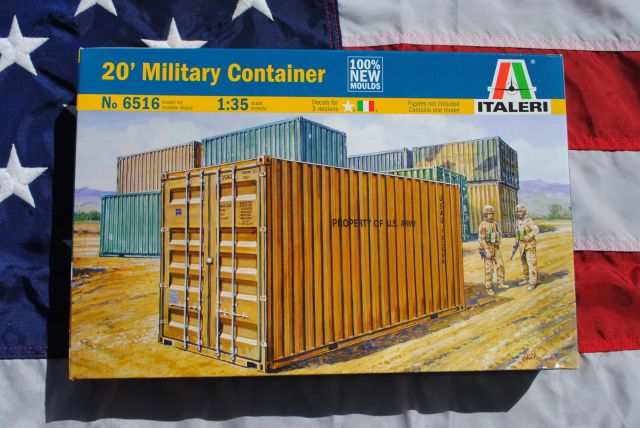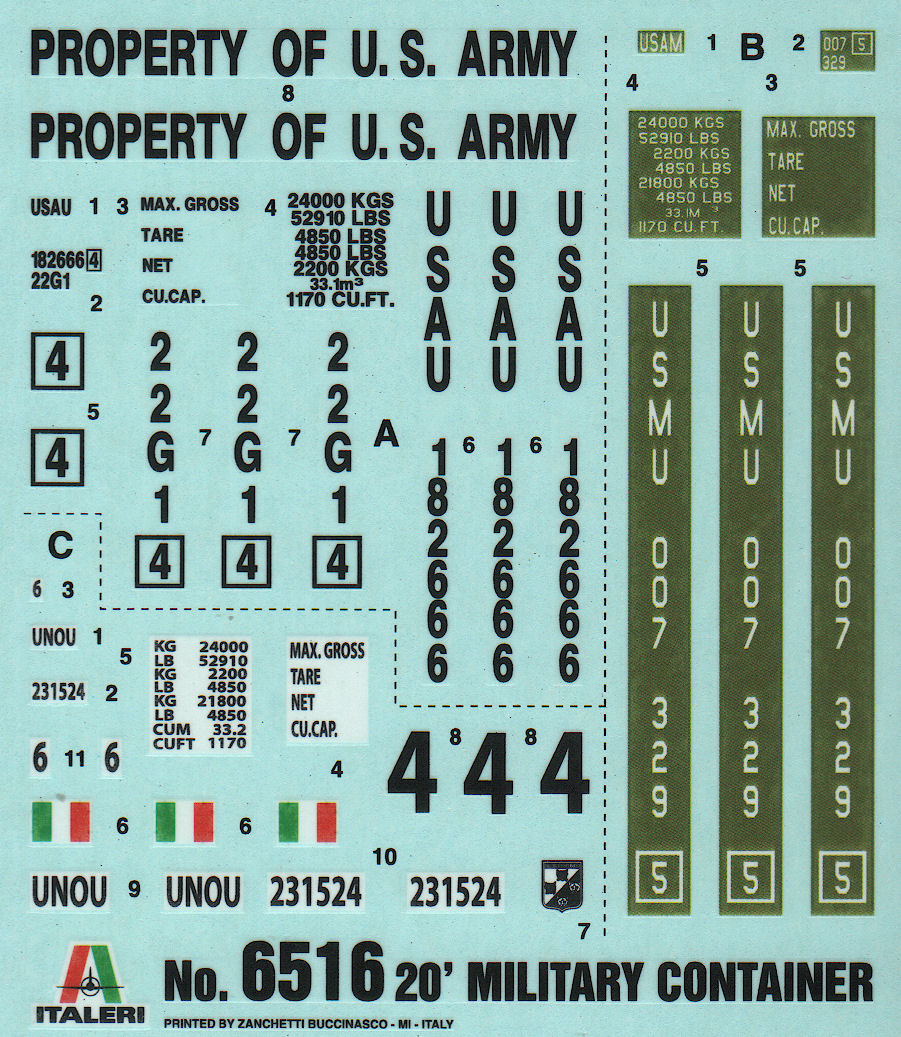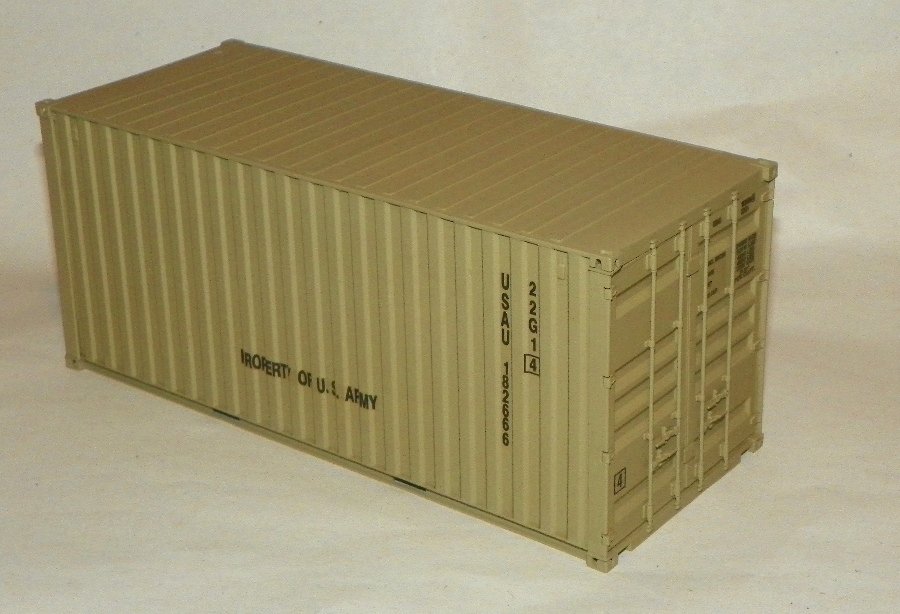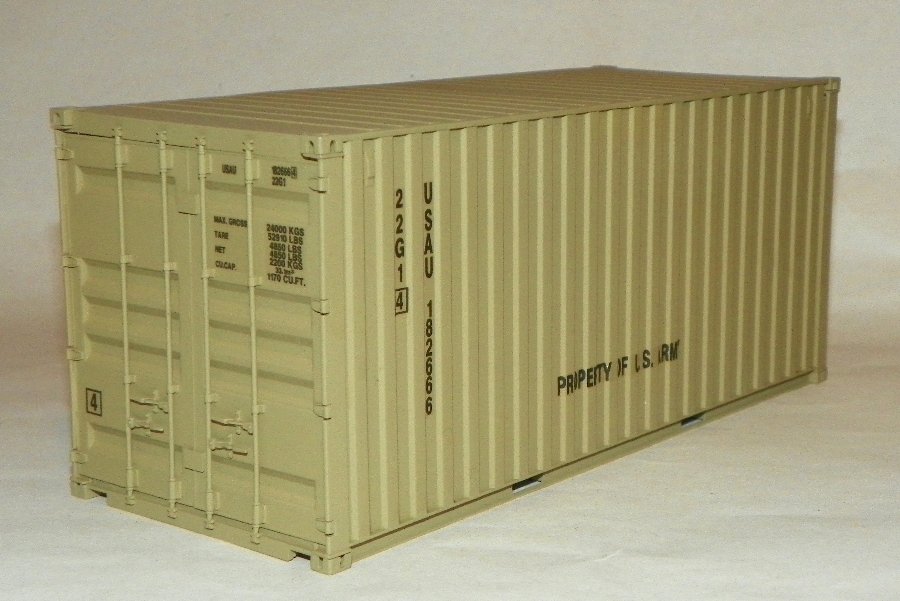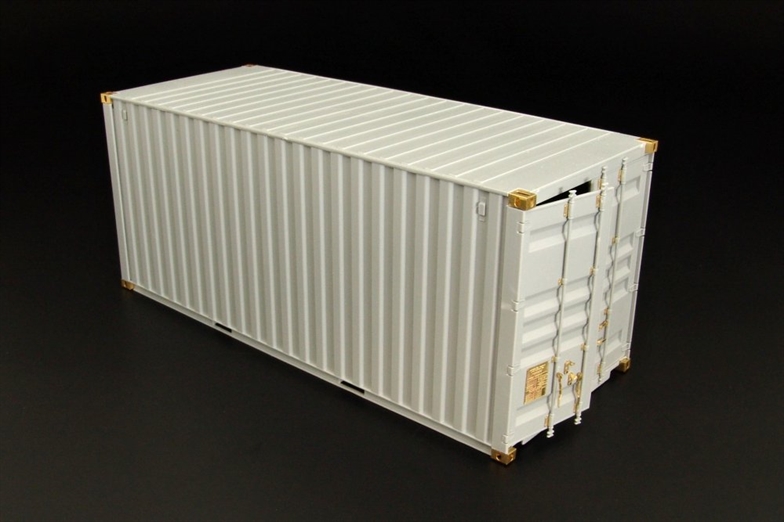 Italeri 6516 20' Military Container
20' Military Container
Een container of zeecontainer is een gestandaardiseerde metalen kist voor het transport van losse goederen. Door het gebruik van standaardafmetingen kan de container zowel via de weg, het water als per spoor worden vervoerd, zonder dat de goederen zelf hoeven te worden in- of uitgeladen.
De standaardmaat van een container heet TEU (zie aldaar). Luchtcontainers, geschikt voor vliegtuigen, zijn in het algemeen smaller dan de standaardcontainers. Een TEU is 20 voet (ca. 6 meter) lang, 8 voet (2,44 meter) breed en 8½ voet (2,60 meter) hoog. Er zijn ook containers van 10 (voornamelijk voor offshore en opslag), 30 (voornamelijk tankcontainers), 40 en 45 voet (respectievelijk ca 3, 9, 12 en 13,65 meter) lang, met dezelfde breedte en hoogte; deze worden voornamelijk voor transport over land gebruikt. De hoogte van een container kan 8 voet, 8½ voet of 9½ voet zijn.
Twee uitvoeringen mogelijk;
20' Military Container - U.S. Army
20' Military Container - Italian Army
Humbrol verf kleur nr.'s; 116 / 121
Schaal 1:35
Italeri 6516 
Beoordelingen ()
Italeri 6516 20' Military Container heeft nog geen reviews. Deel uw product ervaring en plaats een review.
Italeri 6516 20' Military Container
Aanbevolen artikelen:
Alternatieve artikelen: