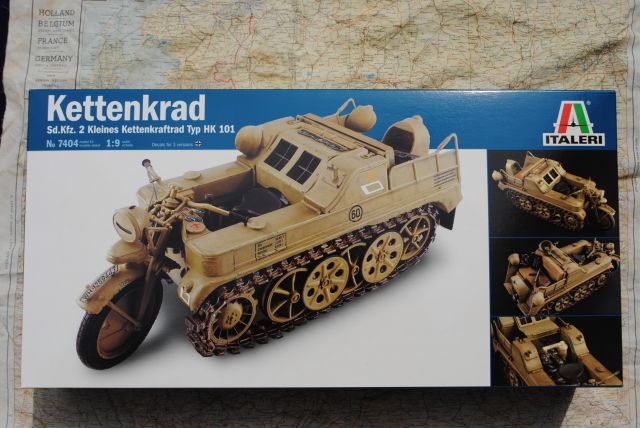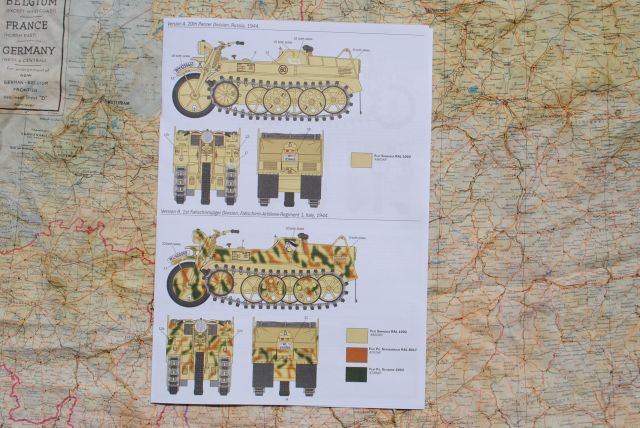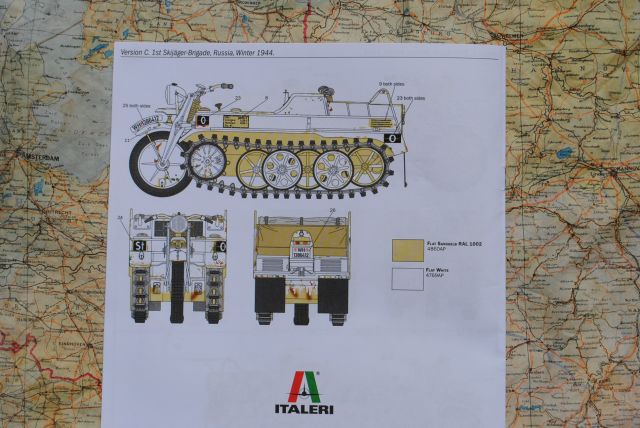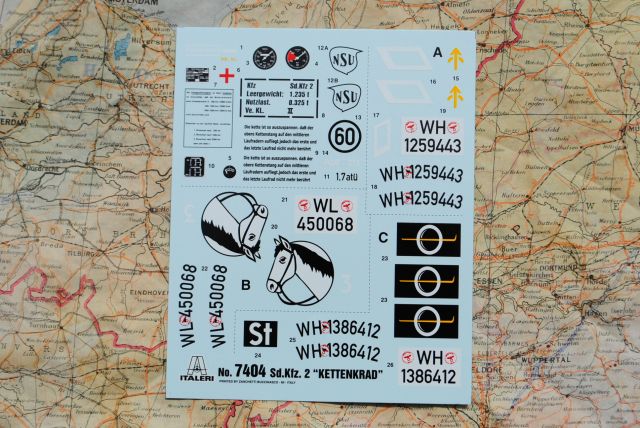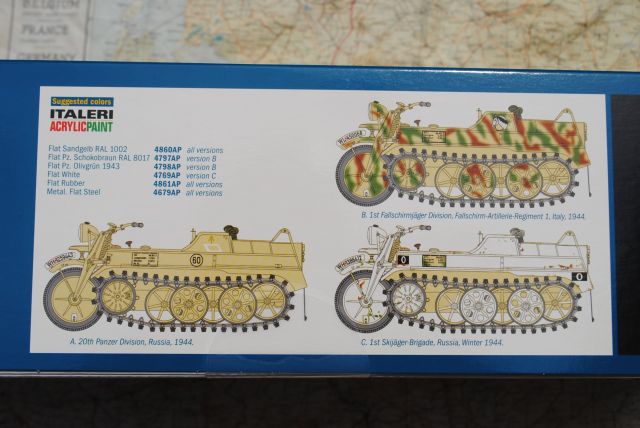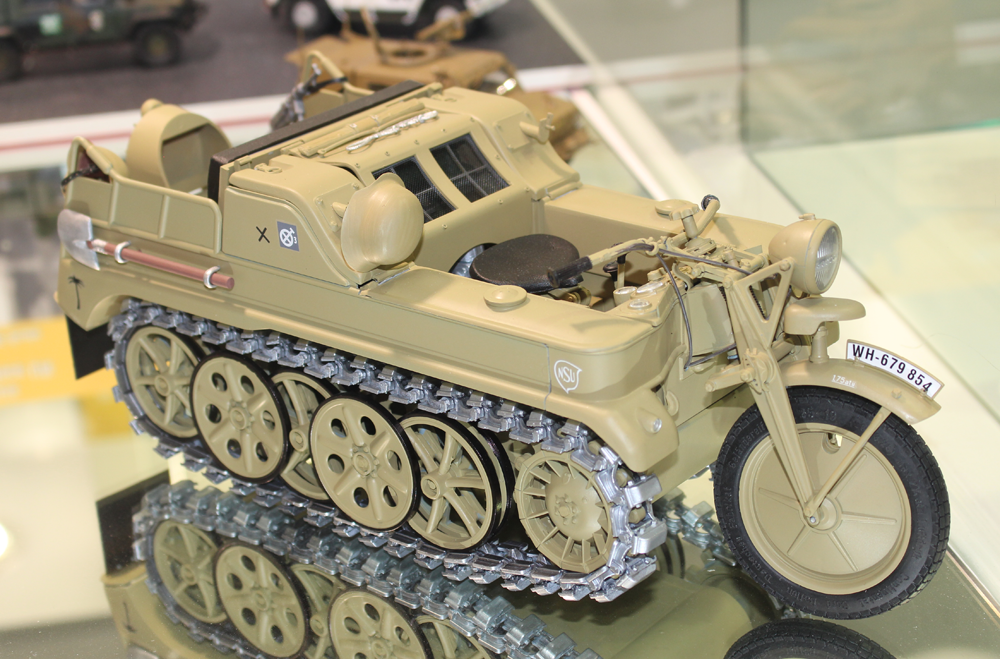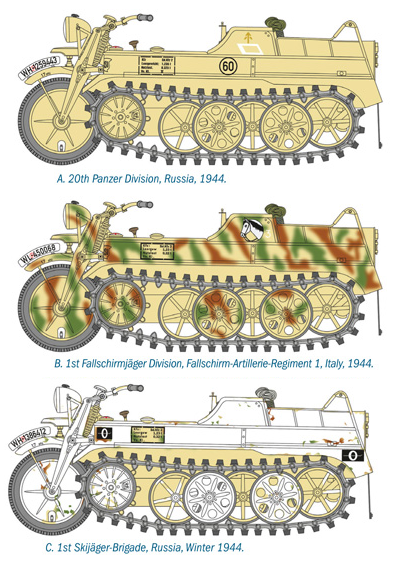 Italeri 7404 KETTENKRAD Sd.Kfz.2 Kleines Kettenkrad Typ HK 101
KETTENKRAD Sd.Kfz.2 Kleines Kettenkrad Typ HK 101
De Sd.Kfz.2, beter bekend als de Kleines Kettenkraftrad HK 101 of Kettenkrad voor kort (waar Ketten betekent "ketting" of "tracks" en krad is de militaire afkorting van het Duitse woord Kraftrad , de bestuurse Duitse term voor motorfiets), begon zijn leven Als lichte trekker voor luchtbende troepen. Het voertuig was ontworpen om te worden geleverd door Junkers Ju 52 vliegtuigen, maar niet per parachute. Het voertuig had het voordeel om de enige pistooltrekker te zijn die klein genoeg was om in de greep van de Ju 52 te passen en was het lichtste massaproduceerde Duitse militaire voertuig om de complexe Schachtellaufwerk te gebruikenoverlappende en tussenliggende wielen die op bijna alle Duitse militaire helft -trackvoertuigen van de Tweede Wereldoorlog.
De meeste Kettenkrad's zagen dienst aan het Oostfront, waar ze communicatiekabels legden, zware lasten halen en soldaten door de diepe Russische modder droegen. Later in de oorlog werden Kettenkrad 's gebruikt als baanboten voor vliegtuigen, vooral voor de Messerschmitt Me 262 jetfighter, en soms ook de Arado Ar 234 jet-verkenningsbomber. Om de luchtvaartbrandstof te redden, zou een Duitse straalvliegtuig naar de baan worden gesleept, in plaats van onder eigen kracht te taxi.
Drie uitvoeringen mogelijk;
Sd.Kfz.2 Kleines Kettenkrad Typ HK 101 - 20th Panzer Division, Russia, 1944.

Sd.Kfz.2 Kleines Kettenkrad Typ HK 101 - 1st Fallschirmjäger Division, Fallschirm-Artillerie-Regiment 1, Italy, 1944.

Sd.Kfz.2 Kleines Kettenkrad Typ HK 101 - 1st Skijäger-Brigade, Russia, Winter, 1944.
Afmetingen;
Schaal 1:9
FEATURES;
Working suspensions
Openable lids
Higly detailed engine
Running tracks
Tool set
Italeri 7404
Beoordelingen ()
Italeri 7404 KETTENKRAD Sd.Kfz.2 Kleines Kettenkrad Typ HK 101 heeft nog geen reviews. Deel uw product ervaring en plaats een review.
Italeri 7404 KETTENKRAD Sd.Kfz.2 Kleines Kettenkrad Typ HK 101
Aanbevolen artikelen:
Alternatieve artikelen: