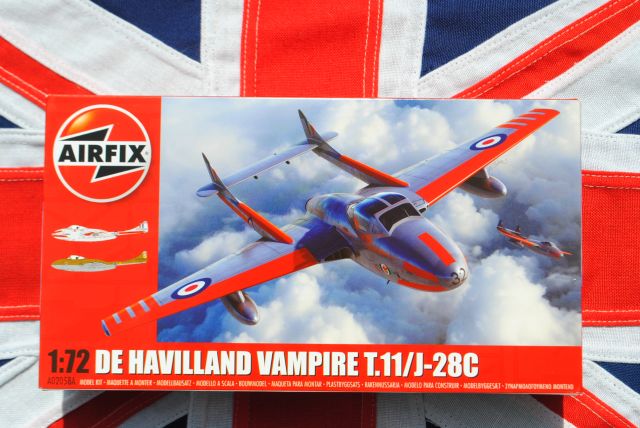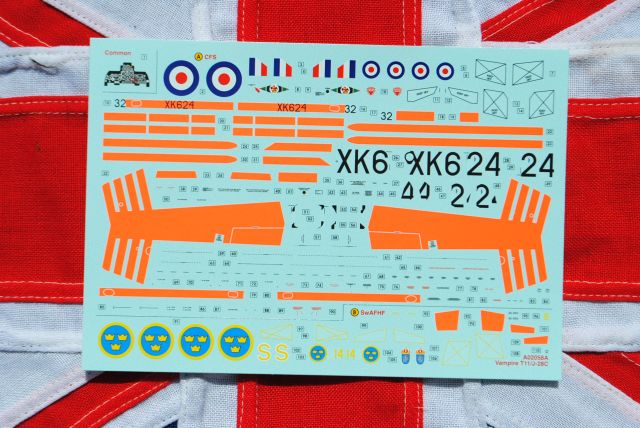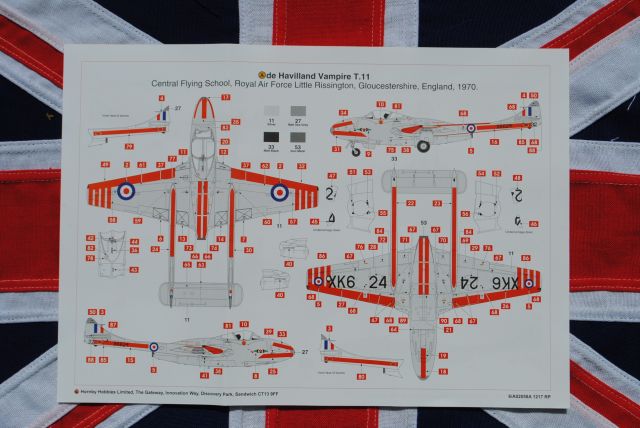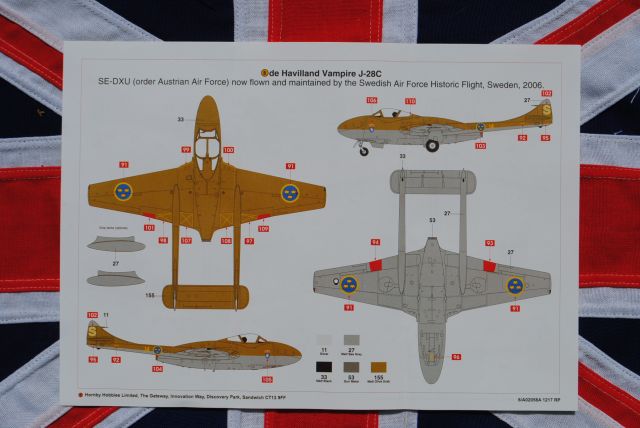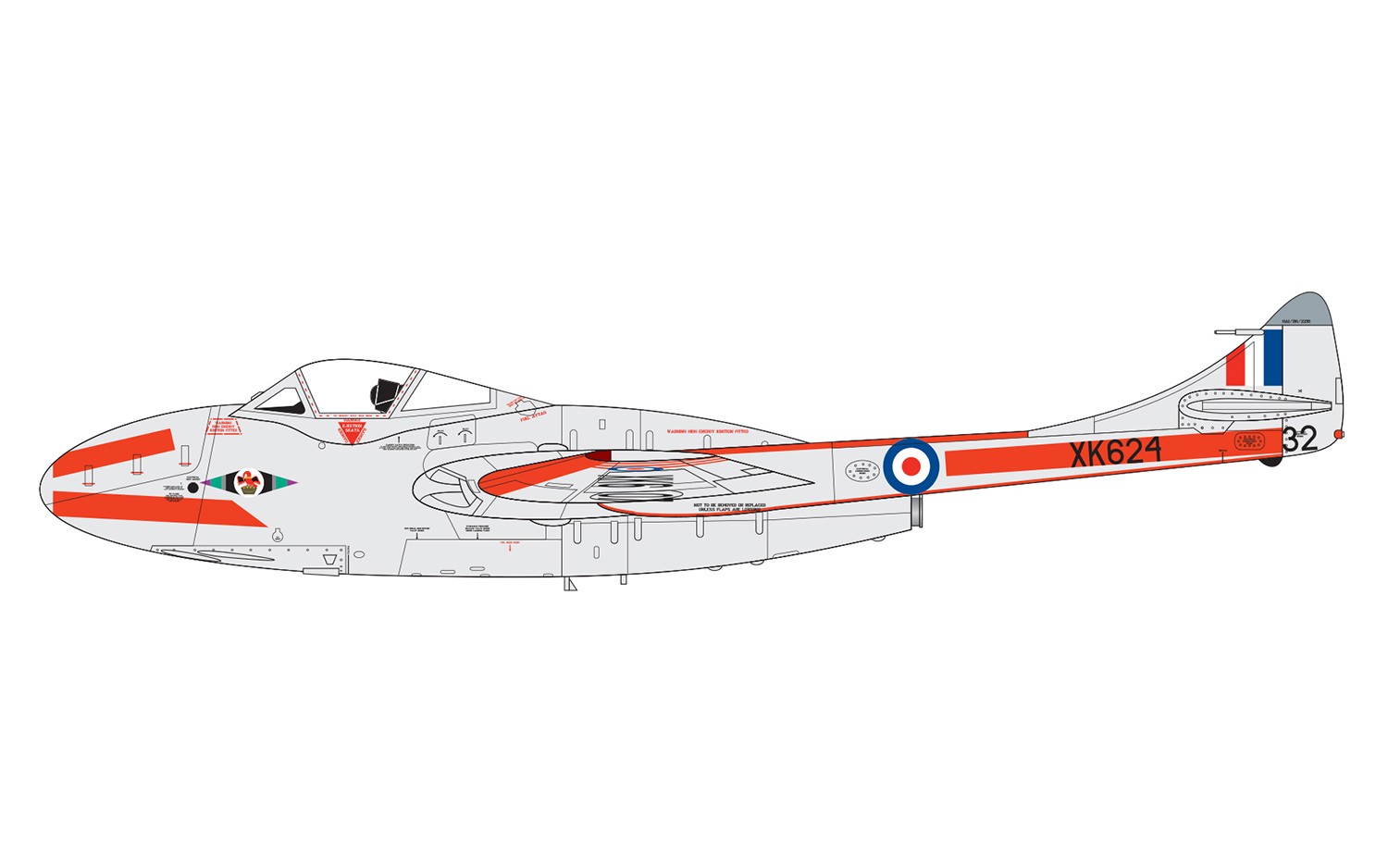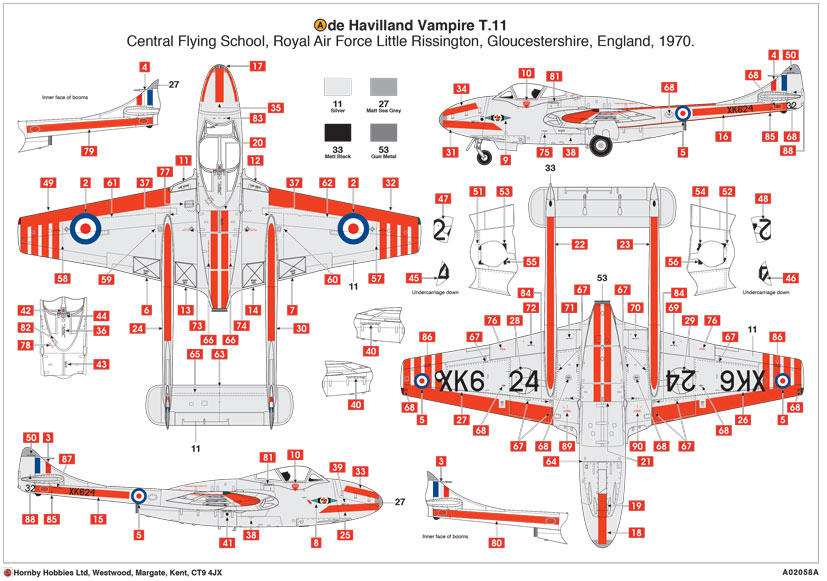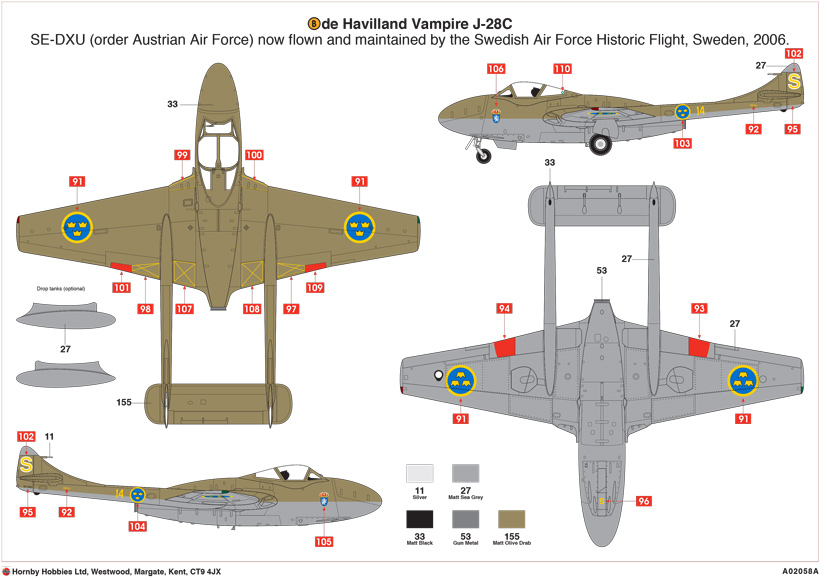 Airfix A02058A DE HAVILLAND VAMPIRE T.11 / J-28C
Artikelnr:
Airfix A02058A
DE HAVILLAND VAMPIRE T.11 / J-28C
De de Havilland DH.100 Vampire was een eenmotorig gevechtsvliegtuig dat in 1945 werd ingevoerd bij de RAF. Het was na de Gloster Meteor de tweede straaljager van de Britse luchtmacht. Toen het toestel in gebruik werd genomen was de strijd gestreden en het heeft daarom geen rol gespeeld bij het overwinnen van nazi-Duitsland. Het Britse publiek maakte kennis met de machine tijdens de overwinningsfestiviteiten van 8 juni 1946.
De Vampire was een veelzijdig vliegtuig dat veel records neerzette: het eerste Britse toestel dat meer dan 800 km/h vloog, het eerste vliegtuig dat een hoogte haalde van 18.119 meter en de eerste straaljager die de Atlantische Oceaan overbrugde. Bij de Westerse strijdkrachten werd het tot 1955 ingezet voor gevechtsfuncties en daarna werd het tot 1965 gebruikt als trainingstoestel. 
Twee uitvoeringen mogelijk;
De Havilland VAMPIRE T.11 - Central Flying School, Royal Air Force Little Rissington, Gloucestershire, England, 1970.

De Havilland VAMPIRE J-28C - SE-DXU (order Austrian Air Force) now flown and maintained by the Swedish Air Force Historic Flight, Sweden, 2006. 
Afmetingen;
Lang; 146 mm.
Breed; 161 mm.
Aantal onderdelen; 55
Humbrol verf kleur nr.'s; 11 / 21 / 24 / 27 / 33 / 53 / 56 / 61 / 87 / 121 / 155.
Schaal 1:72
Airfix A02058A 
Beoordelingen ()
Airfix A02058A DE HAVILLAND VAMPIRE T.11 / J-28C heeft nog geen reviews. Deel uw product ervaring en plaats een review.
Airfix A02058A DE HAVILLAND VAMPIRE T.11 / J-28C
Aanbevolen artikelen:
Alternatieve artikelen: