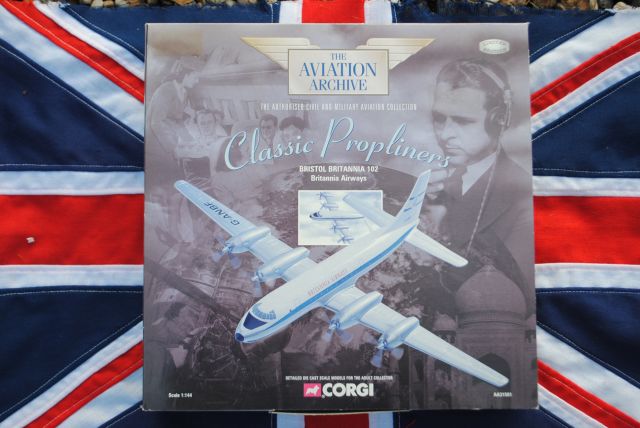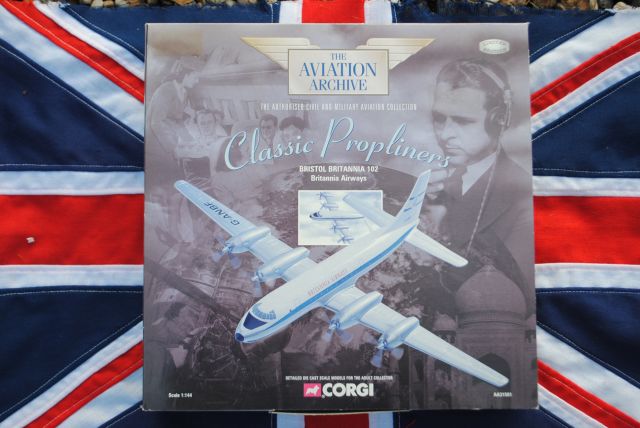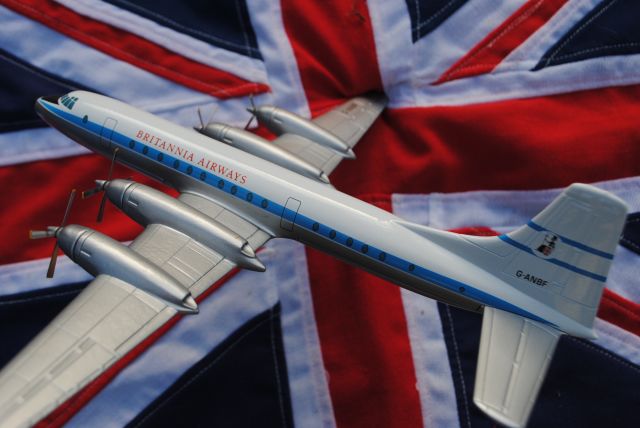 Corgi AA31501 Bristol BRITANNIA 102 "Britannia Airways"
Bristol BRITANNIA 102 "Britannia Airways"
De Bristol Type 175 Britannia is een Brits verkeersvliegtuig gebouwd door Bristol Aeroplane Company. Het werd ontwikkeld nadat de Britse regering, met name het Brabazon Committee, in 1943 opdracht had gegeven om een toestel te ontwikkelen voor 48 passagiers, om zo de naoorlogse Britse verkeersluchtvaartindustrie nieuw leven in te blazen.
Na de Tweede Wereldoorlog werden civiele passagiersvluchten onder meer uitgevoerd met hiervoor inderhaast omgebouwde Lancaster bommenwerpers, die de naam Lancastrian kregen. De BOAC (voorloper van British Airways) nam in juli 1949 een optie voor 25 Brittania's na overleg met de Britse overheid voor een 74-zitter. Het eerste prototype koos het luchtruim op 16 augustus 1952. Dit was doorontwikkeld voor een capaciteit van 90 passagiers. BOAC bestelde van dit initiële type, aangeduid met Series 102, uiteindelijk 15 exemplaren.
Het assortiment "Aviation Archive" van Corgi bevat zeer gedetailleerde, kant-en-klare gegoten modellen van militaire en civiele vliegtuigen. Het uitgebreide Aviation Archive-assortiment is de standaard geworden waarmee alle andere diecast-vliegtuigassortimenten worden beoordeeld. Elk Corgi-model is gebaseerd op een specifiek vliegtuig uit een belangrijk historisch of modern vluchtentijdperk en is authentiek gedetailleerd uit originele documenten en archiefmateriaal van de bibliotheek. Beroemde vliegtuigen en piloten van zowel militaire als commerciële luchtvaart worden allemaal vereerd.
Corgi "Aviation Archive" diecast vliegtuigen functie:
Diecast metalen constructie met enkele plastic componenten.
Realistische paneellijnen, antennes, toegangspanelen en oppervlaktedetails.
Tampondrukmarkeringen en plakkaten die niet zullen vervagen of schilferen als emblemen.
Uitwisselbaar verlengd / ingetrokken landingsgestel met draaiende wielen.
Aanwijsbare standaard voor het weergeven van het vliegtuig "tijdens de vlucht".
Veel gelimiteerde edities met genummerd certificaat van echtheid.
Gedetailleerde, met de hand geschilderde figuren van piloten en bemanningsleden.
Authentieke afneembare munitiebelastingen compleet met plakkaten.
Geselecteerde verwisselbare functies zoals snelheidsremmen, geopende luifels en toegangspanelen.
Geselecteerde bewegende delen zoals geschutskoepels, bedieningsoppervlakken en zwaaivleugels.
Schaal 1:144
Corgi AA31501 
Beoordelingen ()
Corgi AA31501 Bristol BRITANNIA 102 "Britannia Airways" heeft nog geen reviews. Deel uw product ervaring en plaats een review.
Corgi AA31501 Bristol BRITANNIA 102 "Britannia Airways"
Aanbevolen artikelen:
Alternatieve artikelen: