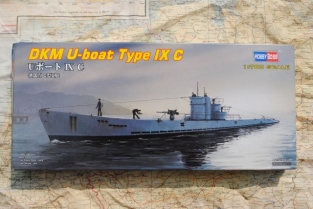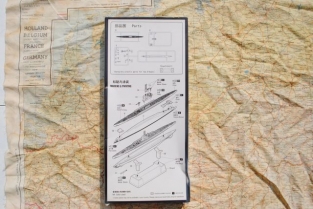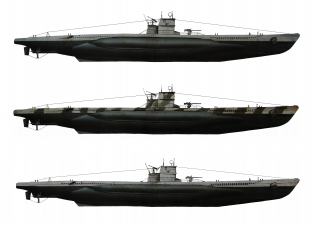 Hobby Boss 87007 DKM U-BOAT Type IX C Kriegsmarine Submarine
Artikelnr:
Hobby Boss 87007
DKM U-BOAT Type IX C Kriegsmarine Submarine 
Het type IX U-boot was door Duitsland in 1935 en 1936 als grote oceaanwaardige onderzeeboot voor lange afstand-operaties ontworpen. Dit model was afgeleid van type IA en kende enkele subtypes.
Type IX had zes torpedobuizen: vier in de boeg en twee in de hek. Binnen konden tot zes extra torpedo's worden meegenomen en buitenboord konden in vijf torpedo-opbergplaatsen (drie achter en twee voor) nog eens tien torpedo's worden meegenomen. Met 22 torpedo's konden U-boot commandanten een konvooi volgen en nacht na nacht toeslaan. Ingezet als mijnenleggers konden ze 44 TMA-mijnen of 66 TMB-mijnen meevoeren, maar veel van de IXC U-boten waren niet als mijnenlegger ingericht.
Bovendeks bevond zich het grote Utof 105/45 kanon met ca. 110 stuks munitie. Het aanwezige luchtafweergeschut veranderde in de loop van de oorlog.
De toren had twee periscopen.
Types IXA en IXB hadden nog een extra periscoop in de commandocentrale, die vanaf type IXC werd weggelaten.
Type IXC was een verdere verbetering met opslagruimte voor nog eens 43 ton brandstof, waardoor de actieradius verder werd vergroot. Bij deze serie werd de derde periscoop weggelaten, waardoor de boot twee periscopen had.
Ingezet als mijnenlegger konden ze 44 TMA of 66 TMB zeemijnen meenemen, maar U-162 t/m U-170 en U-505 t/m U-550 (35 boten) waren niet als mijnenleggers uitgerust.
De U-166 is de enige U-boot die in de Golf van Mexico tot zinken is gebracht.
De U-505 bestaat nog steeds en is in het Museum of Science and Industry in Chicago, Illinois ondergebracht. Daar is de boot in 2004 gerenoveerd en sinds juni 2005 weer tentoongesteld.
Bouwers:
Afmetingen;
Lang; 106.9 mm.
Breed; 9.4 mm.
Aantal onderdelen; 14
Schaal 1:700
Hobby Boss 87007
Beoordelingen ()
Hobby Boss 87007 DKM U-BOAT Type IX C Kriegsmarine Submarine heeft nog geen reviews. Deel uw product ervaring en plaats een review.
Hobby Boss 87007 DKM U-BOAT Type IX C Kriegsmarine Submarine
Aanbevolen artikelen:
Alternatieve artikelen: