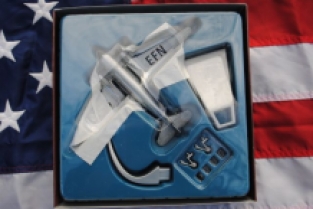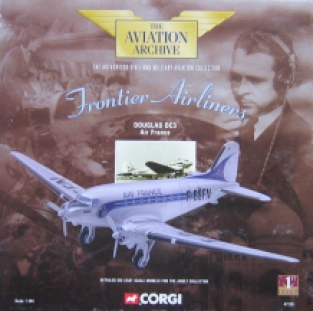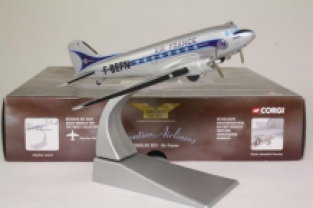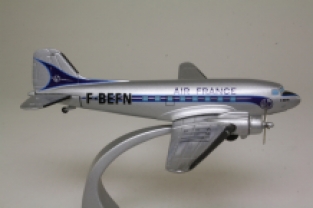 Corgi CC47110 DOUGLAS DC3 "Air France"
DOUGLAS DC3 "Air France"
Douglas DC-3, ontworpen om te voldoen aan de eis van American Airlines voor een vergrote versie van de DC-2, werd de DC-3 voor het eerst gevlogen op 17 december 1935.
Geschikt voor 24 passagiers met een kruissnelheid van 180 mph, de snelheid van de DC-3 en lange bereik heeft een revolutie teweeggebracht in de commerciële luchtvaart in de jaren dertig en veertig, toen het 90 procent van de luchtreizigers in de wereld vervoerde. Vroege DC-3's gebruikten Wright R-1820 Cyclone-motoren, maar Pratt & Whitney R-1830 Twin Wasp Radials werden op latere versies gemonteerd; deze motoren hadden betere prestaties met één motor en lieten de DC-3 op hogere hoogten vliegen.
Het Corgi-assortiment "Aviation Archive" presenteert zeer gedetailleerde, kant-en-klare diecastmodellen van militaire en civiele vliegtuigen. Het uitgebreide Aviation Archive-assortiment is de standaard geworden waarmee alle andere diecast-vliegtuigassortimenten worden beoordeeld. Elk Corgi-model is gebaseerd op een specifiek vliegtuig uit een belangrijk historisch of modern vluchtentijdperk en is authentiek gedetailleerd uit originele documenten en archiefmateriaal van de bibliotheek. Beroemde vliegtuigen en vliegeniers uit zowel de militaire als de commerciële luchtvaart worden allemaal vereerd.
Corgi's 1: 144-schaal DC-3 / C-47-serie omvat zowel militaire transporten als iconische passagiersvliegtuigen (luchttrappen inbegrepen bij sommige releases). Deze modellen zijn bijna volledig vervaardigd van gegoten metaal met slechts de kleinste hoeveelheid gebruikt plastic, een kwaliteit die wordt gedeeld door de meeste Corgi's 1: 144-schaalvliegtuigen. De ruitenbedrukte ramen en deuren op de romp van elke model bieden een naadloze aanraking die de lijnen van het vliegtuig niet onderbreekt. De staart en vleugel met geïntegreerde motorgondels zijn solide gegoten metaal. Radiaalmotorendetail is aanwezig in de motorgondels achter de dun gestempelde volledig metalen propellers.
Eén uitvoering mogelijk;
DOUGLAS DC3 - Air France F-BEFN
Corgi "Aviation Archive" diecast vliegtuigen functie:
Diecast metalen constructie met een aantal plastic componenten.
Realistische paneellijnen, antennes, toegangspanelen en oppervlaktedetails.
Tampondrukmarkeringen en plakkaten die niet zullen vervagen of schilferen als emblemen.
Uitwisselbaar verlengd / ingetrokken landingsgestel met draaiende wielen.
Aanwijsbare standaard voor het weergeven van het vliegtuig "tijdens de vlucht".
Veel gelimiteerde edities met genummerd certificaat van echtheid.
Gedetailleerde, met de hand geschilderde figuren van piloten en bemanningsleden.
Authentieke afneembare munitiebelastingen compleet met plakkaten.
Geselecteerde verwisselbare functies zoals snelheidsremmen, geopende luifels en toegangspanelen.
Geselecteerde bewegende delen zoals geschutskoepels, bedieningsoppervlakken en zwaaivleugels.
Schaal 1:144
Corgi CC47110 
Beoordelingen ()
Corgi CC47110 DOUGLAS DC3 "Air France" heeft nog geen reviews. Deel uw product ervaring en plaats een review.
Corgi CC47110 DOUGLAS DC3 "Air France"
Aanbevolen artikelen:
Alternatieve artikelen: